MUTANT TECH TIPS
#1) Mock up major components before paint
#2) Use Lock tight on every fastener
#3a) Oil Tank line routine:
top (vent and return-interchangable)
<![if !vml]>
<![endif]><![if !vml]>
<![endif]>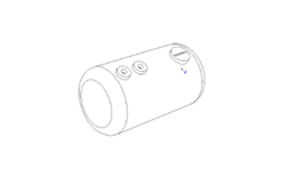 bottom (feed or drain)
#3b) If Oil filter clearance to the frame is "tight" it may be necessary to trim oil filter mounting stud (to service filter) on XB models.
#4) Driveline mock-up:
A. Lay engine/trans assembly on its side (primary down) on a packing blanket or other supportive material.
B. Position frame over engine chassis and start all mounting bolts leaving them loose until all bolts are started. Snug front mount bolts first then the rear. Tighten all bolts in sequence front first then rear.
Rear motor mount bolt must be turned down for clearance on XB models
#5) You must install the rear axle and draw the rear section together before belt/chain alignment or measuring for spacers. (fender installation may also be easier when axle is drawn up)
200 tire: rear axle span = 10.75 inches (distance between inside axle blocks)
250 tire: = 12.75
280 tire: = 13.75
300 tire: = 13.75
#6) Front end mock up: install fork stop on lower triple tree. First remove old lower steering head bearing and press out steering stem. Position fork stop on lower tree and mark, drill and tap mounting holes. Bolt fork stop in place, press shaft back into tree and install new bearing.
#7) Check handle bar and gauge clearance to gas tank by turning front end lock to lock (allow clearance for body and paintwork)
Prep and seal (Por 15) gas tank before paint. Flush gas and oil tanks before installation.
#8) Remove and shorten primary chain adjuster to allow for more frame clearance on XB models.